The Battle of Five Forks (April 1, 1865)
To understand Five Forks one must understand the confused positions of the several detachments confronting one another southwest of Petersburg, starting on the evening of March 31st. Sheridan's cavalry was holding on at Dinwiddie Court House, but just barely so, along a line that ran east-west and faced north. Pickett, with around 10,000 or so infantry and cavalry, was facing him. However, Warren's V Corps was about three miles north and east, in Pickett's rear. While Pickett's success of the day had indeed threatened to cut Sheridan off from the Union main body, it had likewise (coupled with Warren's success along the White Oak Road) threatened to cut Pickett off from Lee.
The controversies of April 1st all have their roots in the attempts by the Yankees to take maximum advantage of the opportunities presented by these postions, and at the same time protect themselves from the opportunities presented to the enemy. Muddying the waters to no small extent was the fact that no commander on either side was entirely aware of the precise situation in time to take complete advantage of it. Both Grant and Lee were sufficiently far from the scene that communication delays often resulted in orders being based on out-of-date information.
Grant and Sheridan both appear to have understood the basic situation, that Warren was well-placed to trap Pickett's force and force its destruction. Unfortunately, the precise means by which this would be accomplished was unclear. On the evening and night of March 31-April 1, Warren received a baffling series of orders about sending help to Sheridan, some very specific, some vaguely general, all of them acting at cross-purposes, and some arriving out of sequence. Some troops were sent directly from Warren's advanced position along the White Oak Road to press up against Pickett's left rear, while others were ordered to withdraw to the Boydton Plank Road for a direct march to Dinwiddie Court House and Sheridan's lines. In a crucial but often overlooked message, Grant told Sheridan that he could expect V Corps to arrive at around midnight. While this was a reasonable estimate of the marching time, it did not take into account the time required to reassemble the Federal divisions and disengage from the enemy, nor was this estimate modified in the light of the delays in eventually deciding what Warren should do and how he should do it, nor was Grant aware that a bridge over Gravelly Run would have to be rebuilt.
As Federal divisions marched to-and-fro that night, some contact was made with elements of Pickett's command. This alerted the Confederate commander to the unpleasant fact that Yankees were in his rear and caused him to order a night-time withdrawal. Pickett's intent was to pull back as far north as Hatcher's Run, where it is crossed by the Ford Road leading from Five Forks, but a message from Lee ordering him to "hold Five Forks at all costs" and expressing "regret" that Pickett had been forced to fall back caused Pickett to take up the fateful position at Five Forks along the White Oak Road. His left did not connect with the rest of the Confederate army and so the entrenchments were refused northwards about one mile east of Five Forks. The gap between Pickett's left and Anderson's right (along White Oak Road) was supposed to be covered by an understrength North Carolina cavalry brigade under William P. Roberts, the youngest general in the Confederate army. Pickett compounded his weak position by poorly positioning the few guns at his disposal; after the war one gunner commented that Pickett "knew more about brands of whiskey than he did about the uses of artillery."
For his part, Sheridan spent an anxious and infuriating night. The supporting infantry that he needed to strike a strong blow at the enemy did not arrive until the morning of April 1st. To compound the problem, Warren had decided that withdrawing from close contact with the Confederates along White Oak Road required the corps commander's personal attention, and so he he was at the rear of the column of march, decidedly not where Sheridan thought he should be. Warren exacerbated this bad impression when he took over three hours after he did arrive to report to Sheridan for orders.
It took most of the morning of April 1st for Sheridan's cavalry to advance and develop Pickett's lines. Meanwhile, V Corps assembled near the J. Boisseau farm. At about 1 p.m., the infantry was ordered forward to the vicinity of the Gravelly Run Methodist Episcopal Church, where they would form for battle. At about this time Sheridan and Warren held a brief conference, at which the plan of battle was decided upon. While the cavalry demonstrated against the Confederate front, V Corps would march forward on a diagonal course to the northwest and strike the "knuckle" where the Rebel line was refused, thus caving in the enemy defenses. Sheridan was greatly upset at what he thought were the continuing delays in Warren getting his troops formed.
There were two tragic problems with this plan. First, the knuckle was not where Sheridan and Warren thought it was, it being some distance to the west. Thus V Corps, if undisturbed, would march forward into empty space behind Pickett's lines. Secondly, Sheridan had received a note from Grant authorizing him to replace Warren if he (Sheridan) felt that V Corps would perform better under one of the division commanders. This order was sent primarily as a result of a courier's report from late that morning, to the effect that V Corps was hung up crossing Gravelly Run. While there had been a delay at that crossing it had been brief and did not contribute substantially to subsequent events, the courier's report did not reach Grant's headquarters until much later, and it created the impression that V Corps was still delayed in its march to support Sheridan. Thus Grant thought that Warren had dallied too much in crossing a small creek.
The Federal attack finally stepped off at 4:15 p.m. on April 1st. While Sheridan's troopers skirmished with Pickett's main line, Warren's infantry marched off into the gap beyond Pickett's left. Warren had deployed his men with Crawford on the right and Ayres on the left of the front line, and Griffin behind Crawford in a second line. The first contact that V Corps had with Rebel troops was infantry and artillery fire directed at the left flank of Ayres, coming as the blue troops crossed the White Oak Road. Ayres was a competant division commander, and he quickly figured out the problem and wheeled his division to the left to attack the Confederate line. However, since Crawford was still moving forward, this opened a large gap in Warren's line, which was promptly filled by Griffin's First Divison from the second line.
From Sheridan's perspective, however, things were going badly wrong, since his supporting infantry was not engaging the enemy. To compound the error, Warren --- who understood at least part of the problem, and had ridden off to correct Crawford's direction of march --- could not be found to rectify the situation.
It was at about 5:00 p.m. that the weight of the Federal infantry began to quickly overwhelm Pickett's left flank. Ayres's attack overlapped the two thin brigades (Wallace's South Carolininas and Ransom's North Carolinians) holding the refused line and nearby front. While this success did disorganize Ayres's troops somewhat, Griffin's division was immediately at hand to follow up the initial success. Unable to hold the onslaught, Confederate resistence collapsed.
Pickett himself, and several of his senior subordinates --- including Fitz Lee --- were blissfully unaware that a battle had even opened, having repaired northward along the Ford Road to Hatcher's Run for the infamous shad bake.
The Confederates tried to make a stand at several points along their line as Ayres and Griffin rolled up the flank, but it was to no avail, and most of the Confederate force was pushed westwards. Warren finally got Crawford's division re-oriented, and it was these troops that swung in far behind Pickett's line to take the last Rebel resistance in the rear, and cut off the northward retreat of many of the Confederates. Ironically, Crawford's error in continuing northward had ultimately made the Federal victory greater than it probably would have been, by scooping up large numbers of prisoners and forcing the remnants of Pickett's force to the west, away from the rest of Lee's army.
Sheridan did not see it that way. All he knew was that V Corps had not attacked when he wanted them to, where he wanted them to, and when he had tried to find the V Corps commander to prod him into action, Warren was not to be found. It was this combination of circumstances that led Sheridan to exercise the authority given to him by Grant. Warren was relieved of his command and Griffin took over V Corps.
The length of the combat is difficult to determine. One source places Ayres's attack on the Confederate flank as occuring at 5:00, and other sources note that Lee ordered Anderson to send reinforcements to succor Pickett at 5:45, making the entire battle something less than an hour in duration.
Losses at Five Forks are estimated at 830 Federals and around 3,000 Confederate, mostly captured. Among the Confederate dead was William Johnston Pegram, the youthful but veteran artillerist whose older brother had been killed two months previously, while commanding an infantry division under Gordon.
Horace Porter carried the news of Sheridan's success to Grant's headquarters, arriving at around 9 p.m. After listening to Porter's report, Grant walked into his tent, wrote out some orders and came back out, handing the paper copies to an orderly to be taken to the field telegraph. "I have ordered an immediate assault along the lines," he announced.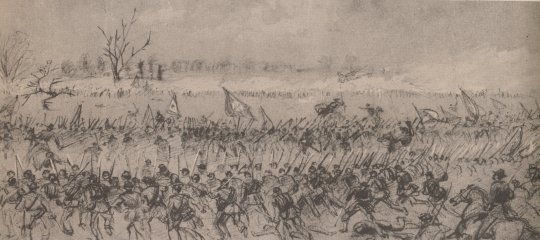 V Corps attacks at Five Forks